Elena Chaikovskaya Corner exists as a reference point on Chaikovskaya's pupils and Former Soviet Union figure skating in general. Each site is updated frequently. This main site is updated weekly.

---
Webmaster's Other Sites:

---
The Skating Site Directory
A website in which a panel of judges rank all the websites for each skater. Current reviews include Ilia Kulik, Katia Gordeeva, and Naomi Nari Nam. A new set of reviews is added each week.

---
Semenovich & Kostomarov Online
Fan site for the Russian Ice Dance couple, including information on their former partners as well.

---
Soon to come: fan pages on Brian Boitano, Silverstein & Pekarek, Petrova & Tikhonov, and Michael Shmerkin. Also soon to come--resource pages on various Former Soviet Union skaters, including Ilia Kulik.

---
If you would like to link to EC Corner please use the graphic below: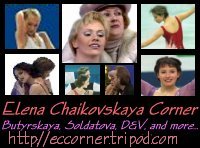 ---
---
---
---
---